The prospects of Russian-Chinese relations were discussed on September 17, 2013 at the meeting of the Russian Public Council for International Cooperation and Public Diplomacy at the Public Chamber of the Russian Federation.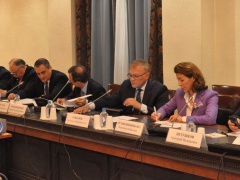 "Building a comprehensive partnership of trust and strategic interaction of relations with China is an axiom that we all agree on," said the moderator of the discussion, Chairman of the Council Sergey Ordzhonikidze. He noted that the area of economic cooperation requires the most improvement, because at present we mainly supply China with resources, while we receive high-tech products from China.
Sergei Ordzhonikidze also touched on the role of civil society institutions in relations with China: "The public of our country should take a firmer civil stance, and not only in relation to China. The absence of a society of friendship in Russian-Chinese relations is absurd.
Igor Morgulov, Deputy Minister of Foreign Affairs of the Russian Federation, made a presentation. According to him, the current century is marked by unprecedented relations with China, which has been Russia's main trade partner since 2010.
The deputy minister said that following the G20 summit, important agreements were reached between Russia and China and a number of intergovernmental statements were signed.
"In general, any Russian-Chinese summit is accompanied by the signing of a huge number of bilateral documents," Morgulov said. – More than 300 agreements covering all spheres of international cooperation have been signed in recent years."
The report also noted that the balance of trade relations with China, although not on Russia's side, is at a decent global level. "The motor of our cooperation is energy," Morgulov said. – We have to be realistic – this is our main product."
According to Mikhail Titarenko, director of the Far East Institute of the Russian Academy of Sciences, Russia and China are economically and ecologically complementary countries.
"We need China as a good neighbor, as a comprehensive strategic partner," Titarenko believes. – And China needs a solid rear in the form of Russia in the inevitable coming rivalry with the United States." He also noted that Chinese colleagues slightly downplay the danger of Sino-American relations.
"Everything is beautiful in words only," said Alexander Sokolov, a member of the Russian Parliamentary Assembly, regarding Sino-Russian relations. – There is no need to paint everything in cloudless colors. China is moving away from Russia by leaps and bounds, while we are lagging behind. According to the expert, to date Russian-Chinese relations are not developing and represent 70% of the level reached ten years ago.
Sokolov also said that it is necessary to take into account and smooth over the past "not the best" relations with China, because long-standing conflicts have not yet been forgotten.
"There was an episode in world history when Kissinger and Nixon went to China in 1972 and 'played the China card' against the Soviet Union," Veronika Krashennikova recalled in her remarks. A member of the OP believes that the current situation should not allow a repetition of such a "play on" the partner countries by the third party.
In conclusion, OP member Maxim Grigoriev suggested that in addition to foreign policy issues and cultural cooperation to pay attention to the experience in the field of legislative measures, especially in terms of economic support.
Press Service of the Public Chamber of the Russian Federation