Federalnaya Gazeta № 138-139 April 2009..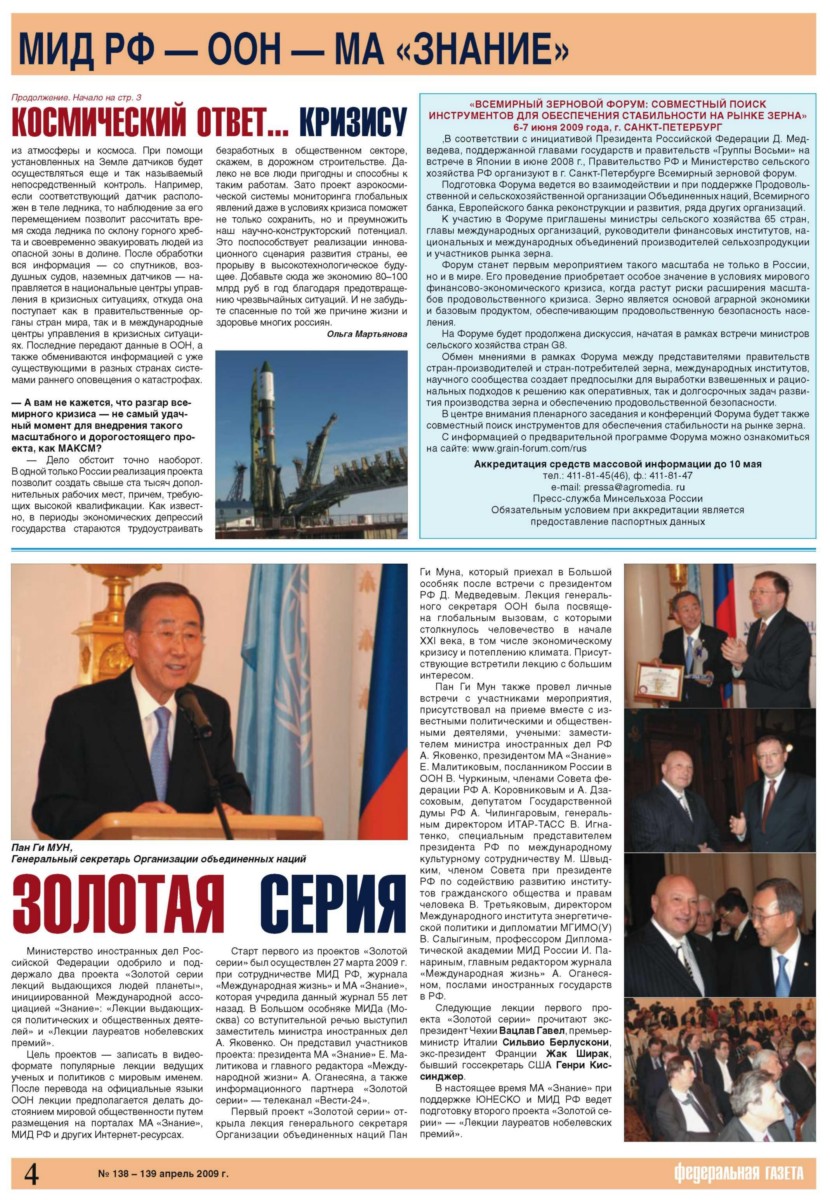 Ministry of Foreign Affairs of Russian Federation approved and supported two projects of "Golden Lecture Series of Prominent People of the Planet" initiated by International Association "Knowledge": "Lectures of outstanding political and public figures" and "Lectures of Nobel Prize Winners".
The goal of the projects is to record in video format popular lectures by leading scientists and politicians of international renown. After the lectures have been translated into official UN languages, it is planned to make them available to the international community through posting them on the IA "Znanie", the Ministry of Foreign Affairs of the Russian Federation and other Internet resources.
The first "Golden Series" project was launched on March 27, 2009 in cooperation with the Foreign Ministry, the International Life magazine and MA "Znanie", which set up the magazine 55 years ago. Deputy Foreign Minister A. Yakovenko made an opening speech in the Grand Mansion of the Ministry of Foreign Affairs (Moscow). He introduced the participants of the project: president of MA "Znanie" E. Malitikov and editor-in-chief of "International Life" A. Oganesyan, as well as information partner of the "Golden Series" – TV channel "Vesti-24".
The first project of the Golden Series opened with a lecture by United Nations Secretary-General Ban Ki-moon, who arrived at the Grand Mansion after meeting with Russian President Dmitry Medvedev. The lecture of the UN Secretary General was devoted to the global challenges facing humanity at the beginning of the 21st century, including the economic crisis and the climate warming. The lecture was well received by the audience.
Ban Ki-moon also held personal meetings with the participants of the event and attended the reception together with well-known politicians, public figures and scientists: Russian Deputy Foreign Minister A. Yakovenko, President of the MA Znanie E. Malitikov, Russian envoy to the UN V. Churkin, members of the RF Federation Council A. Korovnikov and A. Dzasokhov, RF State Duma deputy A. Chilingarov, ITAR-TASS Director General V. Ignatenko, Special Advisor to the Secretary General of the Russian Ministry of Foreign Affairs A. Chemelevsky, Deputy Chairman of the Russian President Vladimir Putin. I. Ignatenko, Special Representative of the Russian President for international cultural cooperation M. Shvydkoy, member of the Russian Presidential Council for the Development of Civil Society Institutions and Human Rights V. Tretyakov, Director of the International Institute of Energy Policy and Diplomacy of MGIMO (U) V. Saligin, professor of the Russian Foreign Ministry Diplomatic Academy I. Panarin, editor-in-chief of International Life magazine A. Ohanesyan, foreign ambassadors to Russia.
The next lectures of the first project of the Golden Series will be delivered by former Czech President Vaclav Havel, Italian Prime Minister Silvio Berlusconi, former French President Jacques Chirac, and former U.S. Secretary of State Henry Kissinger.
At present the IA Znanie with the support of UNESCO and the Ministry of Foreign Affairs of the Russian Federation is preparing the second project of the Golden Series – "Lectures of Nobel Prize Laureates".